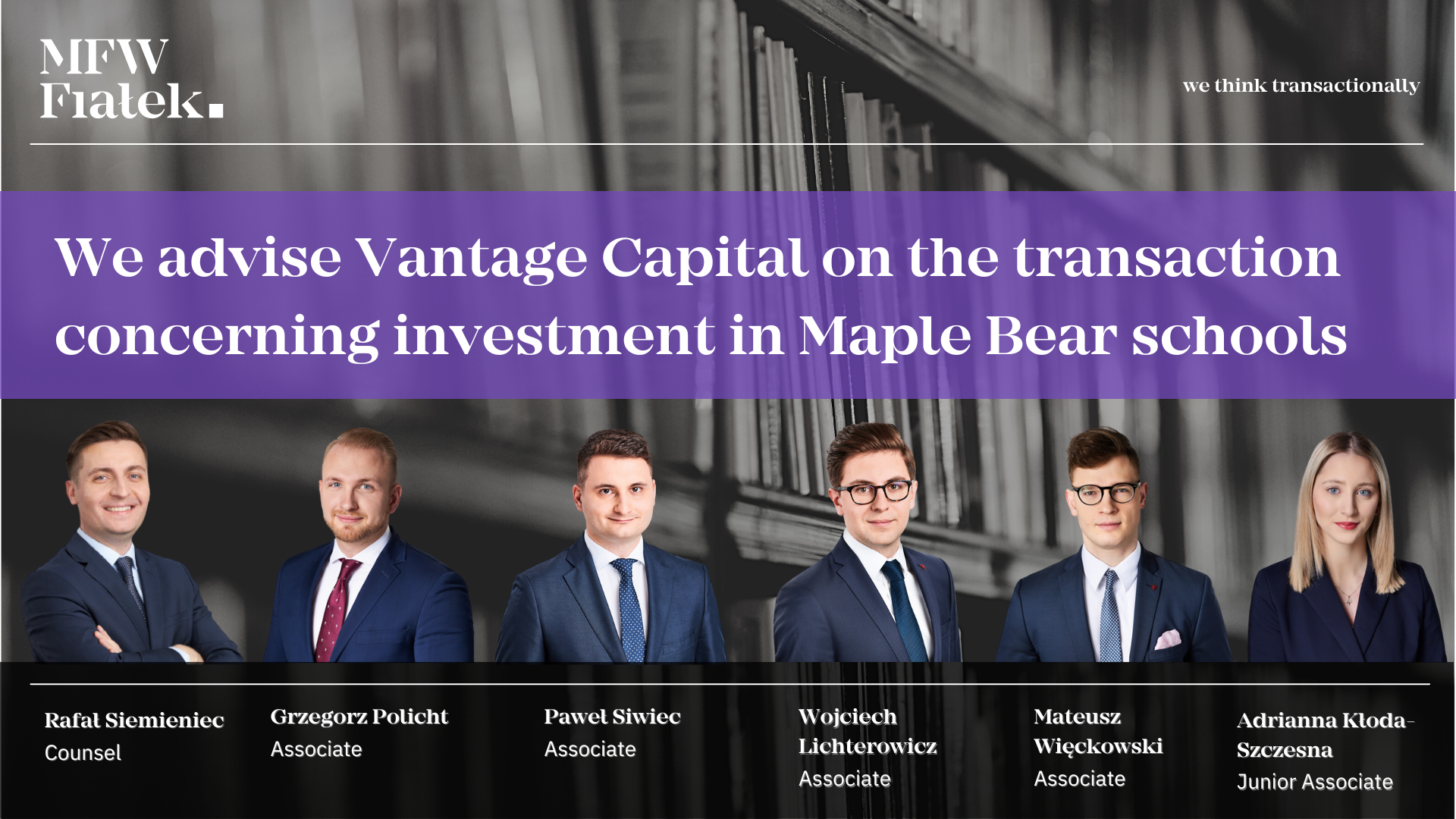 MFW Fiałek advises Vantage Capital in a transaction concerning investment in the development of educational facilities based on the Canadian bilingual education system. The transaction is part of Vantage Capital's investment program in Maple Bear CEE with a total value of approximately €100 million. 
Our advice
MFW Fiałek's advice includes comprehensive transactional support, in particular drafting and negotiating the investment and shareholders' agreement, support in the implementation of the corporate structure in Poland and the negotiation of the franchise agreement, the signing and closing of the transaction.
Rafal Siemieniec – Counsel leads the project and manages the team's work. The team also includes Grzegorz Policht – Associate, Paweł Siwiec – Associate, Wojciech Lichterowicz – Associate, Mateusz Więckowski – Associate and Adrianna Kłoda-Szczesna – Junior Associate.
Parties of the transaction
Vantage Capital is an Africa-focused fund manager with offices in Johannesburg. The business was founded in 2001 and has raised funds of over $1.4 billion. Since 2006, Vantage Capital's Mezzanine division has made 33 investments across four successive funds into 11 African countries, making it the largest and most experienced independent mezzanine funder on the continent.
Maple Bear is the largest and fastest growing K-12 bilingual school network in the world. It offers fully Canadian bilingual methods and strategies, using Canadian and local curricula in full compliance with local education regulations. There are currently more than 570 Maple Bear early childhood, elementary, middle and high school franchises in more than 30 countries, with 10 operating or under development in Central and Eastern Europe. Thanks to the partnership with Vantage Capital, an additional 200 schools will be established in 22 countries within 10 years.