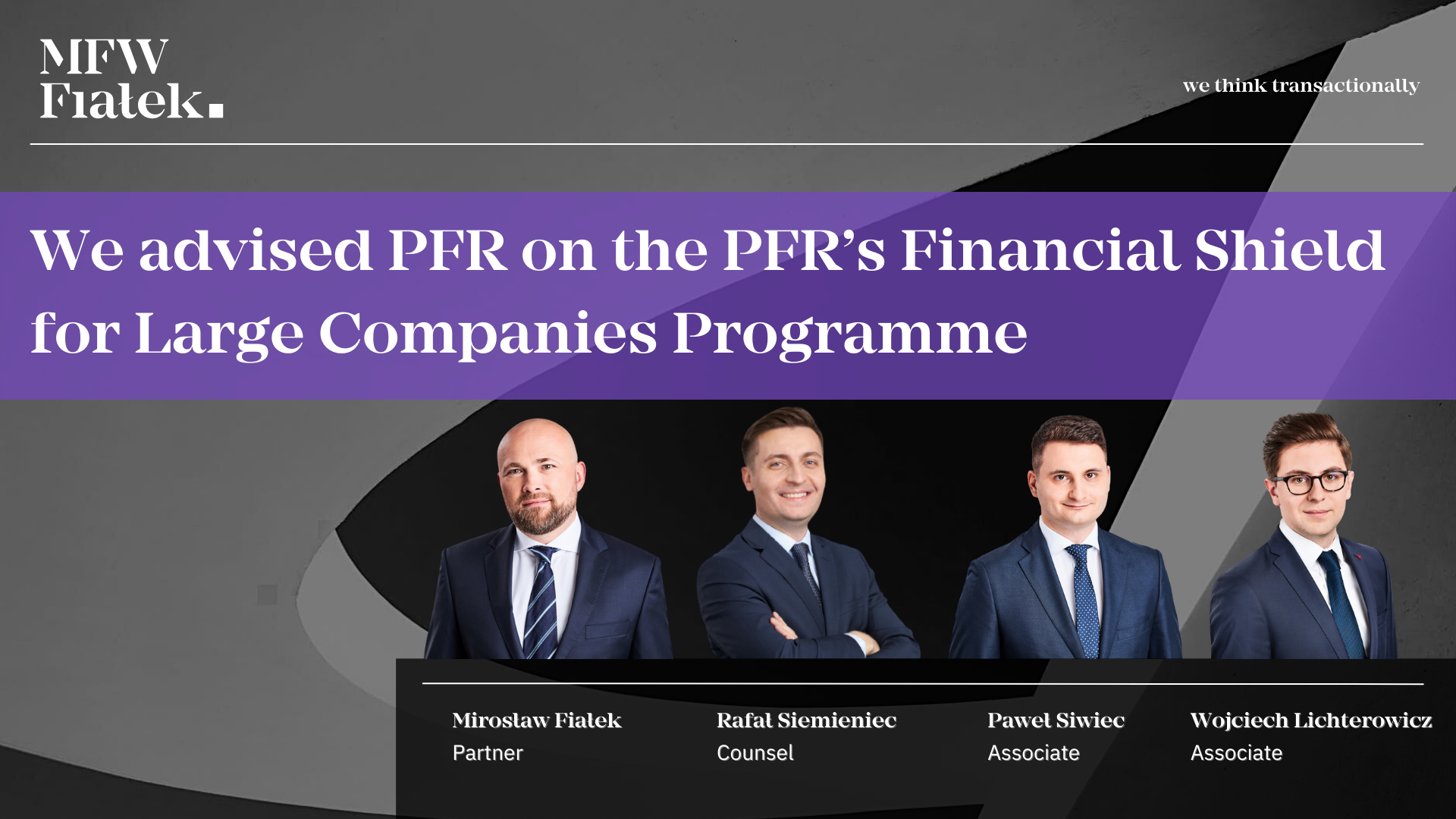 MFW Fiałek was one of the advisors to the Polish Development Fund (Polski Fundusz Rozwoju/ PDF) on corporate financing projects under the PDF's Financial Shield Programme for Large Companies and the provision of liquidity and preferential financing.
The PDF's Financial Shield is an assistance programme that the PDF launched as part of the Anti-Crisis Shield in 2020. The programme was designed to make preferential financing available to large enterprises to ensure liquidity and financial stability during the period of severe economic disruption due to the effects of the COVID-19 pandemic.
Our advice
Our advice over the two years of the programme included:
carrying out the legal due diligence of the enterprises seeking financing;
negotiating the transaction documentation;
providing support during the signing and closing of transactions, including the establishment of the security interest for the financing provided;
providing post-transactional support.
With our involvement the PDF's financial support was provided to enterprises in important sectors of the Polish economy, including transport, hospitality and rehabilitation, media and entertainment.
The PDF was supported by the team led by Mirosław Fiałek – Partner and Rafał Siemieniec – Counsel. Paweł Siwiec – Associate and Wojciech Lichterowicz – Associate coordinated the work of the respective teams.
The Polish Development Fund is a group of financial and advisory institutions for entrepreneurs, local governments and individuals investing in Poland's sustainable social and economic development, whose priorities are infrastructure investments, innovation, entrepreneurship development, export and foreign expansion of Polish enterprises, support for local governments, implementation of the Employee Capital Plans programme and servicing foreign investments.