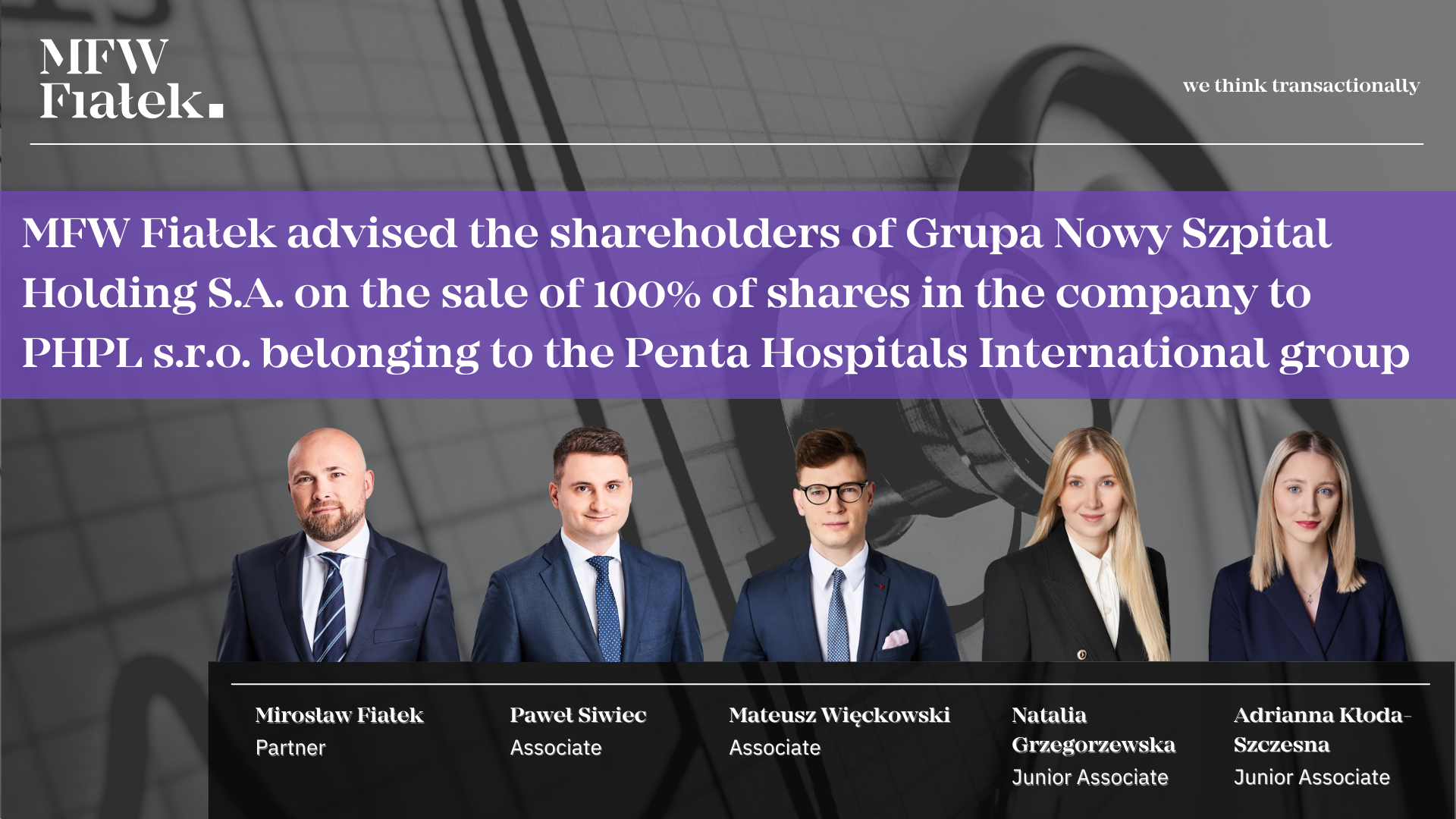 MFW Fiałek advised the shareholders of Grupa Nowy Szpital Holding S.A. on the sale of 100% of shares in the company to PHPL s.r.o. belonging to Penta Hospitals International group.
Our advice
Our comprehensive legal advice in the transaction included, in particular, drafting and negotiating the transaction documentation, and providing support at the execution of the transactions documents. The closing of the transaction is conditional on, among others, the clearance of the President of the Office for Competition and Consumer Protection for the concentration.
The transaction team's work was managed by Miroslaw Fialek – Partner. In addition, the team included Paweł Siwiec – Associate, Mateusz Więckowski – Associate, Adrianna Kłoda-Szczesna – Junior Associate and Natalia Grzegorzewska – Junior Associate.
Parties of the transaction
Grupa Nowy Szpital Holding S.A. operates one of the largest hospital networks in Poland that provides medical services under general health insurance. Grupa Nowy Szpital Holding S.A. manages 10 county hospitals located in three provinces: Kuyavia-Pomerania, Lubusz and Lesser Poland.
PHPL s.r.o. is a part of the international holding Penta Hospitals International. Penta Hospitals International is the largest international network of hospitals and outpatient clinics in the Central and Eastern Europe. The network includes 34 hospitals and 31 outpatient clinics, as well as 26 facilities for long-term ill patients in the Czech Republic, Poland and Slovakia.