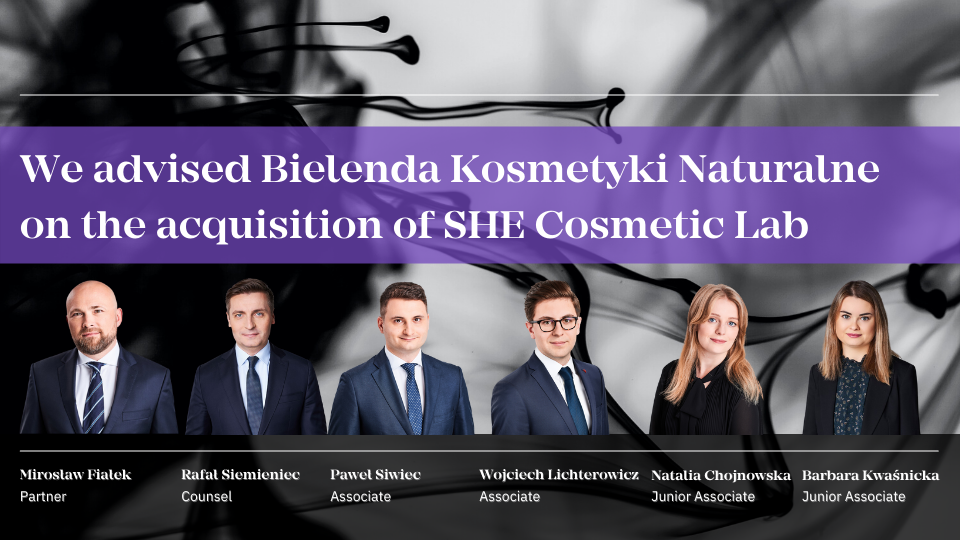 MFW Fiałek advised Bielenda Kosmetyki Naturalne, an Innova Capital portfolio company, on the acquisition of SHE Cosmetic Lab, a Polish cosmetics company specialising in hand and foot care products.
Comprehensive legal advice throughout the transaction included, in particular, conducting the target's legal due diligence as well as and drafting and negotiating the transaction documents.
The transaction team was led by Mirosław Fiałek – Partner, and included Rafał Siemieniec – Counsel, Paweł Siwiec – Associate, Wojciech Lichterowicz – Associate, Natalia Chojnowska – Junior Associate and Barbara Kwaśnicka – Junior Associate.
Bielenda Kosmetyki Naturalne sp. z o.o. is a leader of the Polish cosmetics market. In January 2020 it acquired two large brands: Soraya and Dermika. The subsequent acquisitions not only expand the range of cosmetics, but also strengthen Bielenda's position on the domestic market and increase the competitiveness of Polish products, also abroad.
SHE Cosmetic Lab sp. z o.o. is a manufacturer of specialised natural hand and foot care cosmetics and accessories. Its portfolio includes such brands as SHE HAND, SHE FOOT and MAN FOOT.