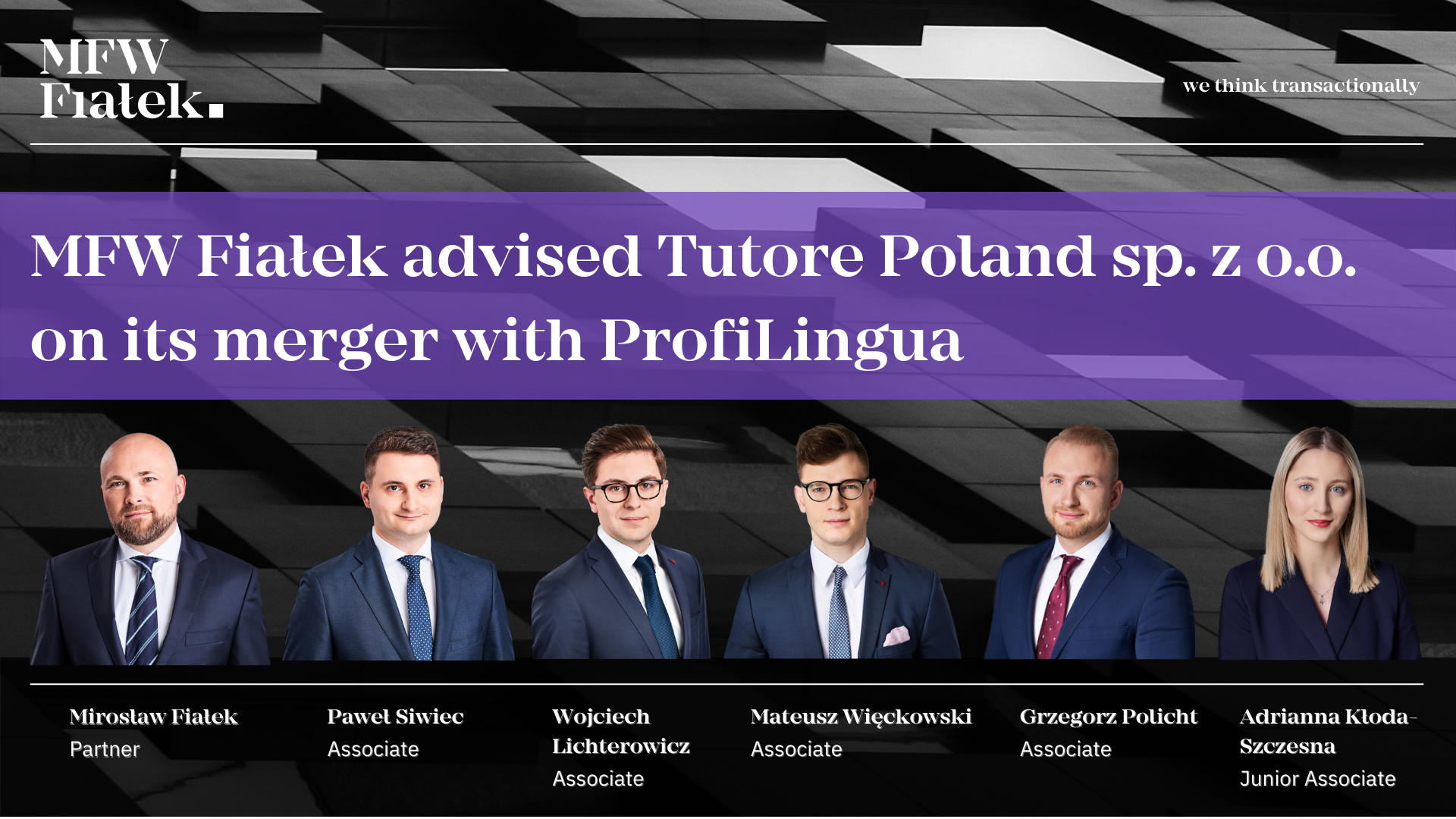 MFW Fiałek advised Tutore Poland sp. z o.o., a leading company in the educational sector, on its merger with ProfiLingua, a chain of language schools. Before the merger the schools operated by ProfiLingua will be spun off from Wydawnictwa Szkolne i Pedagogiczne S.A. As a result of this transaction Tutore Poland will join forces with ProfiLingua, the most recognisable educational brand in Poland. Both Tutore Poland and ProfiLingua will continue to operate under their separate respective brands.
Our advice
MFW Fiałek's comprehensive legal advice included in particular preparing Tutore Poland sp. z o.o. to the transaction, structuring the transaction as well as drafting and negotiating the transaction documents, including the investment agreement and the shareholders agreement. MFW Fiałek also supported the shareholders in building the holding structure, including the drafting and negotiating of the shareholders agreement.
The transaction team was led by Mirosław Fiałek – Partner. The team also included Paweł Siwiec – Associate, Wojciech Lichterowicz – Associate, Mateusz Więckowski – Associate, Grzegorz Policht – Associate and Adriana Kłoda-Szczesna – Junior Associate.
Parties of the transaction
Tutore Poland sp. z o.o. (formerly Music & More sp. z o.o.) started its educational activity in 2017. Its goal was to reach the largest possible group of clients with its modern educational offer. At the very beginning Tutore Poland sp. z o.o. offered in-school classes in more than 1,000 outlets all over Poland. Following the outbreak of COVID-19 pandemic in 2020 the company introduced a new business model – online educational for children and adults. Nowadays it offers innovative classes via its unique self-developed platform.
ProfiLingua is one of the language schools with the longest history and most recognisable brand in Poland. It offers courses for children and adults in dozen languages. Each year ProfiLingua has more than 25,000 students, both in its own schools in the largest Polish cities and online.