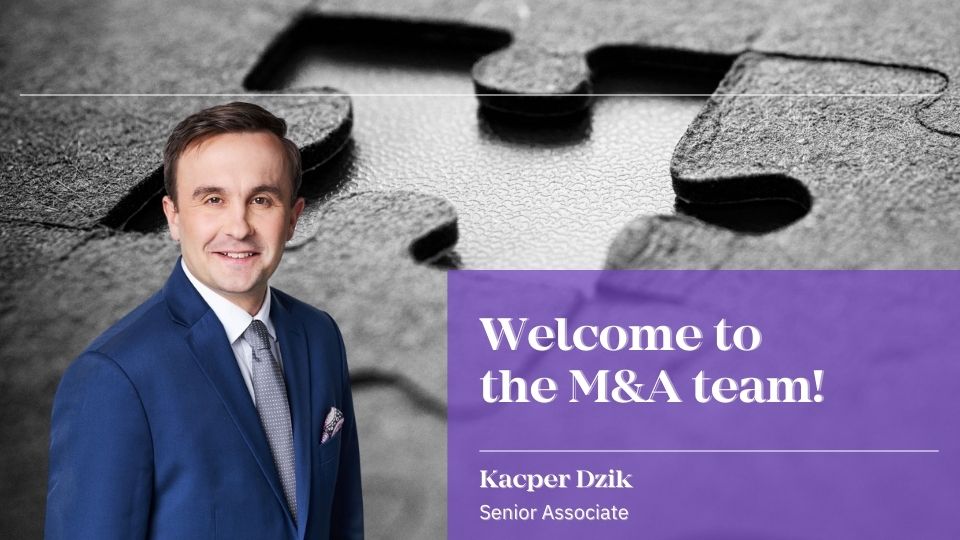 We are pleased to announce that Kacper Dzik has joined our team as a Senior Associate, strengthening our M&A practice.
Kacper has over ten years of experience in providing legal services to businesses, company law and transactional advice. For more than five years he has been involved in providing legal advice on the acquisitions and disposal of companies and their components, as well as on real estate issues.
Kacper has advised on share deal, asset deal and joint venture transactions. He has extensive experience in providing day-to-day legal advice to companies, including their establishment, mergers and preparation of corporate documents. He has participated in due diligence analyses of numerous companies with a resulting red flag report.
In his career to date he has advised companies from various business sectors, including construction, property development, retail, telecommunications, logistics, automotive, postal, waste treatment, insurance, new technologies and alternative energy sources.
Attorney admitted to the Warsaw Bar Association. He graduated from the Faculty of Law and Administration at the Warsaw University, majoring in Law, and completed a general legal training course at the National School of Judiciary and Public Prosecution in Kraków. He also completed postgraduate studies "Energy Academy" at the Warsaw School of Economics.
Prior to joining MFW Fiałek he cooperated with the leading Polish law firms.
Kacper, welcome to the team!