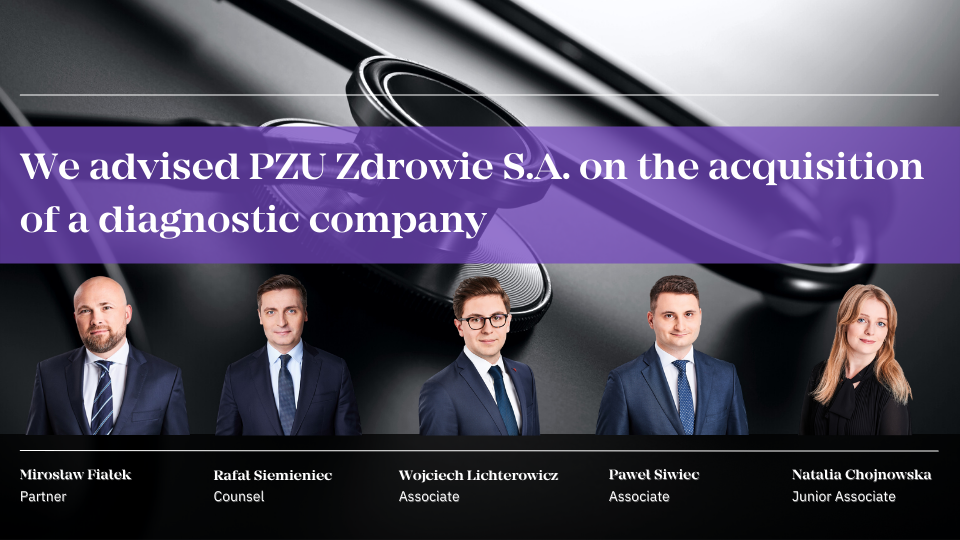 MFW Fiałek advised PZU Zdrowie S.A. on the acquisition of a healthcare company specialising in diagnostic imaging by Bonus-Diagnosta sp. z o.o., a PZU Zdrowie S.A group company. The transaction involved the acquisition of 100% of the target's shares and thus adding two new magnetic resonance imaging centres to PZU Zdrowie's medical network.
Our advisory
Our transactional legal advice included carrying out the due diligence review as well as drafting and negotiating the transaction documents
The transaction team was lead by Mirosław Fiałek – Partner and Rafał Siemieniec  – Counsel, and included Wojciech Lichterowicz – Associate, Paweł Siwiec – Associate and Natalia Chojnowska – Junior Associate.
PZU Zdrowie medical network
PZU Zdrowie S.A. is one of the leaders of the private medical care in Poland. PZU Zdrowie's medical network comprises 130 health centres, including the diagnostic imaging network. In addition, PZU Zdrowie cooperates with more than 2,200 partner health centres in over 600 Polish cities.